Seahawk Premium Yacht Finishes on Board as Sponsors of Caribbean Sailing Week
Already big supporters of many Caribbean Regattas, Seahawk Premier Yacht Finishes have come on board as sponsors of Caribbean Sailing Week, taking place from October 17-20, 2020.
A forty year old family owned and operated business located in Clearwater, Florida, the business produces first class products needed to protect your hull, no matter the material it is built from.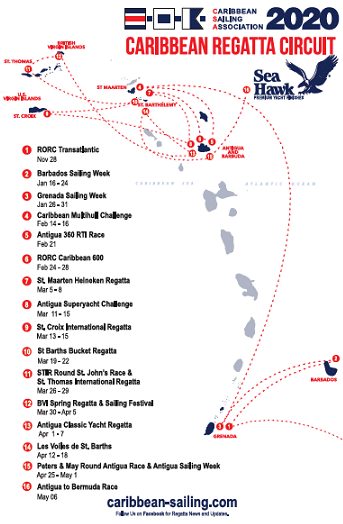 Seahawk are the Official Apparel Sponsor and will be providing each competitor in the Caribbean Dinghy Championship with a long sleeve rash vest which hi-lights a map of the region showing key event dates for 2020. (Right)
The shirt will make its debut tonight in Cowes, UK, at the Caribbean Sailing Association (CSA) sponsored RORC Cowes Crew Party. The event takes place at the RORC Clubhouse from 7pm when attendees will be able to enjoy live reggae music from Britain's Got Talent star Derek Sandy. Partygoers wearing Caribbean regatta memorabilia will get the chance to win one of the prized rash vests.
Seahawk along with the CSA are this year stepping up their promotion of the regatta circuit to hi-light the huge choice of regattas available to competitive sailors wanting a blue water experience during the winter months.. A five year calendar highlighting key dates for all of the regattas is updated annually to allow campaigning yachts to plan ahead but also for everyone wishing to race in the region whether on their own boat or chartering to understand the options available.
Denis Laesker, sales manager of Seahawk Paints says of the sponsorship, "The Caribbean Sailing Association has been instrumental in all aspects of the main regattas in the region. From the technical aspects to the promotional side of the events, the crew has shown tremendous dedication and professionalism. Being involved with all the major regattas in the Caribbean for so many years, allows me to say that our common ultimate goal is that all racers enjoy the regattas, remain competitive and take back home great stories about their experiences around the Caribbean. We at Sea Hawk Paints feel honored to support the CSA initiatives and always try to go that extra mile to support them."
President of the CSA, Alison Sly-Adams says, 'Seahawk has shown consistent support of regattas in our region as well as the CSA for some years. We are delighted to have them on board to assist in our promotions and also in support of Caribbean Sailing Week taking place in Antigua later this year. The event will be the first time the CSA Annual Conference will run concurrently with the CSA Caribbean Dinghy Championship thus bringing together the biggest group of decision makers and regional sailors in one place annually. Coupled with a new Race Management Clinic, just announced, we are looking forward to launching further new initiatives and getting input from a wide cross section of stakeholders in the sport to continue supporting our main objective of building capacity at all levels in the sport.'
For more information about the RORC Crew Party visit http://www.rorc.org/events/events-2019/cowes-week-crew-party
For more information about Caribbean Sailing Week visit https://caribbeansailingweek.com
For a full calendar of Caribbean regattas visit http://www.caribbean-sailing.com